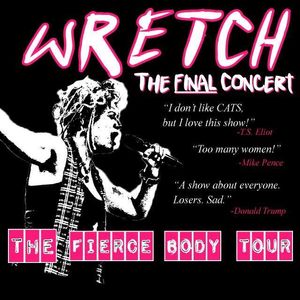 How wild is this - I've been cast in a musical! I'm playing the role of GUITAR (OK so it's not much of a stretch) in the feminist punk rock musical wRETCH: The Final Concert, which is premiering at the Fresh Fruit Festival i n NYC July 12, 14 and 15. Get TIX HERE. 
The songs are a blast - punky yet melodic and memorable - and I am having so much fun with my first-ever acting experience. To be honest, I was petrified - but the director and cast have been super supportive. I'm learning a ton at every rehearsal. We have been rehearsing a LOT to get the show up to snuff in time for opening nite July 12. 
Here's more info about the show: 
Pan is a queer punk-rock diva, and this is her last concert! Or is it? Her band can't tell . . . this suicide talk's not serious, is it? While they try to figure it out, wRETCH plays their set of riot grrrl-style proclamations on drugs, lesbianism, eating disorders, and taking up space. Get ready to smash the patriarchy, and maybe a guitar or two, at this bombastic all-woman rock extravaganza.