Thanks, Tris McCall for this lovely review of my Fox and Crow show in ComeHereFloyd.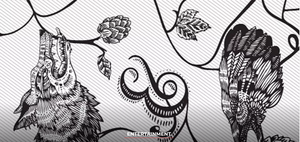 "I'm here to see Debra Devi, a local musician I've never caught live, which feels like a terrible omission that a Hudson County rock kangaroo court ought to fine me for. Every time I've encountered her recordings, I've always been impressed: they're polished and pro-sounding, and they always foreground her musical intelligence. Devi's records are direct in a manner that I don't tend to encounter when I hear other ambitious Hudson County independent acts, most of whom apply masking agents to their sound: digital reverb, or big, distorted midrange electric guitar, or tape murk or other pleasant nonsense. In keeping with the explanatory aesthetic I believe I get from her songs,
"Devi has actually written a book about the music that inspires her. It's called The Language of the Blues from Alcorub to Zuzu, and I've read it. She sent a copy to the newspaper when it was released, and I never got an opportunity to review it in print. So I'm telling you right now: it's absolutely worthwhile. Devi talks blues terminology with some legendary practitioners (Hubert Sumlin and Jimmie Vaughan are in there), and she's just as insightful and funny as they are. Nat Hentoff liked it, and that, right there, ought to be more than enough for you, music fan.
"Devi's performance carries the same playfulness and transparency I remember from her book. She neither overplays nor oversings: everything she does is in the service of whatever discrete musical idea she's currently determined to express. Nor is she particularly deliberate – she's just certain, sure of herself, and modest in her presentation. She's like one of those miners with a lantern on her helmet, tunneling through her solid songs, illuminating the few feet in front of her and not bothering with whatever is lurking down the shaft. She plays her first few numbers on acoustic guitar, but the show really comes alive when she switches to electric. This gives her an opportunity to solo, which she does often, and with tonal and melodic sensitivity that reminds me quite a bit of David Gilmour."