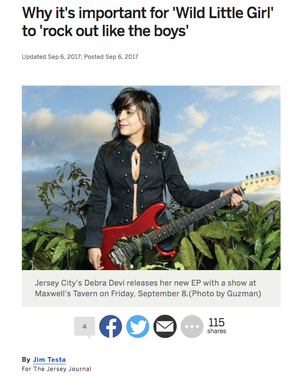 "Jersey City's Debra Devi stands out among singer/songwriters as a true triple threat: a gifted songwriter, a powerful singer and an outstanding guitarist. 
Devi displays the full range of her talents on her new self-released EP, Wild Little Girl which she'll release at Maxwell's Tavern in Hoboken on Friday, Sept. 8. 
Firmly grounded in the blues/rock tradition,Wild Little Girl mixes wistfulness with forcefulness. Devi comes across as sassy and defiant on "Shake It," wistful and meditative on "Butterly." She wanders into modern country on "Tired of Waiting" and comes across as broken-hearted but hopeful on "Stay." 
Every track leaves room for organic, expansive guitar solos.
Devi produced Wild Little Girl herself, as she did her 2016 album, "Get Free." 
"For this project, I recorded a lot of the guitars at SST Studios in Weehawken," Devi said. "It's a comfortable place for me to work because my brother works there as the drum tech."
The drums and vocals were recorded at a studio in Greenpoint, Brooklyn, and overdubs were added at Max Feinstein's Silverhorse Studio in Hoboken. 
"Silverhorse is also where I rehearse, so that's a great place for us to do guitar overdubs since I'm so familiar with the sound there," she added.  "And then I did the mixing with engineer Wayne Dorrell (formerly the owner of Hoboken's Pigeon Club studios), with whom I've worked before. He mixed my album, too.  I'm just really lucky that I'm able to work with all these very talented people right here in the area." 
The process can be grueling, she said. 
"When you make a record, by the time you're done recording it and mixing it and agonizing over it for months, you really have no idea if it's any good or not," Devi said. "You really just get sick of it. But I have to say that I am really happy with.  Guitar was my first love, and I started playing in punk bands.  Then I started writing collaboratively a little bit in some of the bands I was in, and then finally I worked up the courage to start writing songs myself.  So, I really think of myself as a guitarist first.  When I started my solo career, I really hadn't sung that much except for harmonies in other bands so it was fun to discover the kind of voice I had and learning how to write songs that were right for me to sing and to find the guitar sounds that work with my voice.  It's just been a process of self-education."
But Devi didn't grow up playing the guitar. 
"I always loved the sound of the electric guitar, but when I was a little girl, my mother wouldn't let me play it," Devi said. "When I was about 7 years old, I heard Creedence Clearwater Revival's 'Suzy Q' and the feedback on the song just freaked me out.  It kind of scared me and fascinated me at the same time.  When I was about 15, I finally got up the nerve to ask my mother for an electric guitar and she was mortified. She didn't think it was ladylike, and when I told her she was being sexist, she just put her foot down and said it would be too loud."
READ THE REST OF THE INTERVIEW: "Why It's Important for Wild Little Girls to Rock Out LIke the Boys" by JIm Testa